EXTRA — EXTRA — READ ALL ABOUT IT:  Our Newsletter along with our Mother's Day Raffle tickets were just mailed out to those of you who are on our mailing list. If you are not on our mailing list, no worries, we have a limited number of booklets available at our Shelter, please call us at 732-920-1600 ext.0 to make arrangements if you wish to purchase some. (PLEASE DO NOT SHOW UP TO OUR SHELTER TO PURCHASE TICKETS – OUR SHELTER IS CLOSED TO THE PUBLIC).

For all that we do, we cannot do without you. You can help us save more lives by participating in our fundraising efforts. All proceeds are put to immediate use and allow us to continue our rescue mission. Our Mother's Day Raffle is just one of these appeals and with your donation you will have the chance to win a VISA gift card. (1st place: $1,000., 2nd place: $500., & 3rd place: $250.) The drawing will take place on Friday, May 8 (PLEASE NOTE THE RAFFLE TICKET STATES MAY 9TH) at 3pm at our Shelter. The winners' need not be present. We will contact the winners' via phone and make an announcement on social media. Please note that tickets are $1.00 each, A book of 10 is $10.00

Return your raffle book today! We are a small Shelter doing BIG things! With your help, what we do will be even bigger! Please follow us, please adopt, please donate-we need you, the animals need you! Thank you for being a part of our team.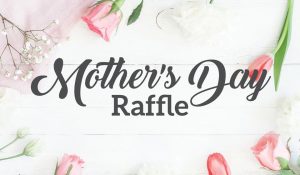 Dear Supporters:

Please stand by for a new date for our 10th Annual Spring Fur Paws Gift Auction. We are looking forward to seeing you. Stay healthy, stay safe!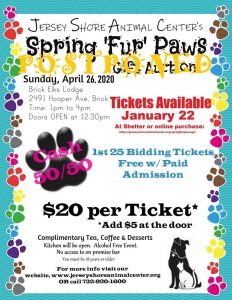 order your tickets online – today!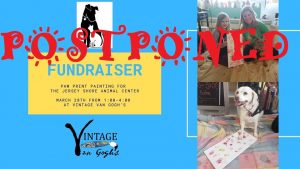 Seats are limited – reserve today!