Dear Friends of the Shelter: Our team decided to cancel our postponed event.  While we share your disappointment, the health and safety of our team and community is most important.   For those that have purchased tickets, you can continue to support our Shelter by choosing to donate the cost of the ticket to Jersey Shore Animal Center, or please do let us know if you would like a refund.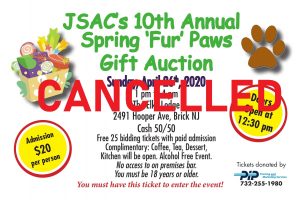 Please tell us your preference here:
________________________________________________________________
Fundraiser for Jersey Shore Animal Center

One of our closest friends and friends to all animals is helping the Shelter with sales of pet items for just $5. Contact Barbara at 609-384-1555 or babbs0315@aol.com for more information. All proceeds will go to the animals in our care. 

**Pet Items are not on premise, you must contact Barbara direct** And thank you Barbara for all you do!
________________________________________________________________