Vaccinating your pet is extremely important, so we now offer low cost vaccines  on the FIRST Saturday of every month!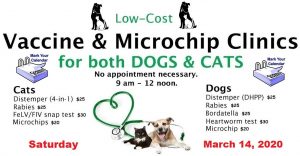 Hours and Location:
1st Saturday of Each Month
9am to 12pm
185 Brick Blvd, Brick NJ
No Appointment necessary, walks in welcomed
Days/Times subject to change, please call to confirm or visit our Facebook page for updated days/times
Your pet will be given a brief physical exam prior to the vaccines by a veterinarian and with the assistance of a technician, therefore animals must be in good health to receive vaccinations and other services. Pets with health concerns may not be vaccinated and should be seen by a full service veterinary clinic.
Please Note: We ARE NOT a full service veterinary hospital or clinic.
We encourage and recommend you and your pet to establish a relationship with a local veterinary hospital. 
Vaccination Services:
Dogs:
DAPP (canine distemper vaccine)

$25

Bordetella (kennel cough vaccine)

$25

Rabies vaccine $25

Canine heartworm test $30
Cats:
FVRCPC (feline distemper) $25

Rabies vaccine $25

Feline Felv/FIV test  $30
Extras:
Microchip $20

Nail trim (only if pet does not need sedation)  $10