welcome to Jersey Shore Animal Center
Effective immediately, Jersey Shore Animal Center has implemented the following temporary changes as a result of the Coronavirus.  Our staff, shelter pets, volunteers and community continues to be our priority.  We are closely monitoring the situation and will post updates as necessary.  
Until further notice, our Shelter will be closed to the public.  As always, our staff will be here every day to take care of our animals.  
Adoptions:   We will consider approved applicants for meet and greets with our pets.  Please use our website https://jerseyshoreanimalcenter.org/ to view our adoptables and submit an online application.  If you do not see a specific type of pet, please indicate your search on your application.  
Spay/Neuter/Wellness Clinic:  All existing appointments will be rescheduled.  We will be announcing future appointment dates as well as information regarding our next Wellness Clinic.   
Shelter Donations:  AT THIS TIME, WE ARE NO LONGER EXCEPTING PHYSICAL DONATIONS AT THE SHELTER — PLEASE STAY HOME! 

#

FLATTENTHECURVE

.
Bow Wow Boutique Thrift Shop-will be closed for shopping and donations until further notice.  Please do not leave donations outside until we are able to accept them.
We will post regular updates to our website and all social media.  Please call 732-920-1600 during our shelter hours 10am-4pm with any questions.  We appreciate your understanding and remind everyone to follow best practices and health guidelines to be safe and have an emergency plan in place for your pets should you become ill.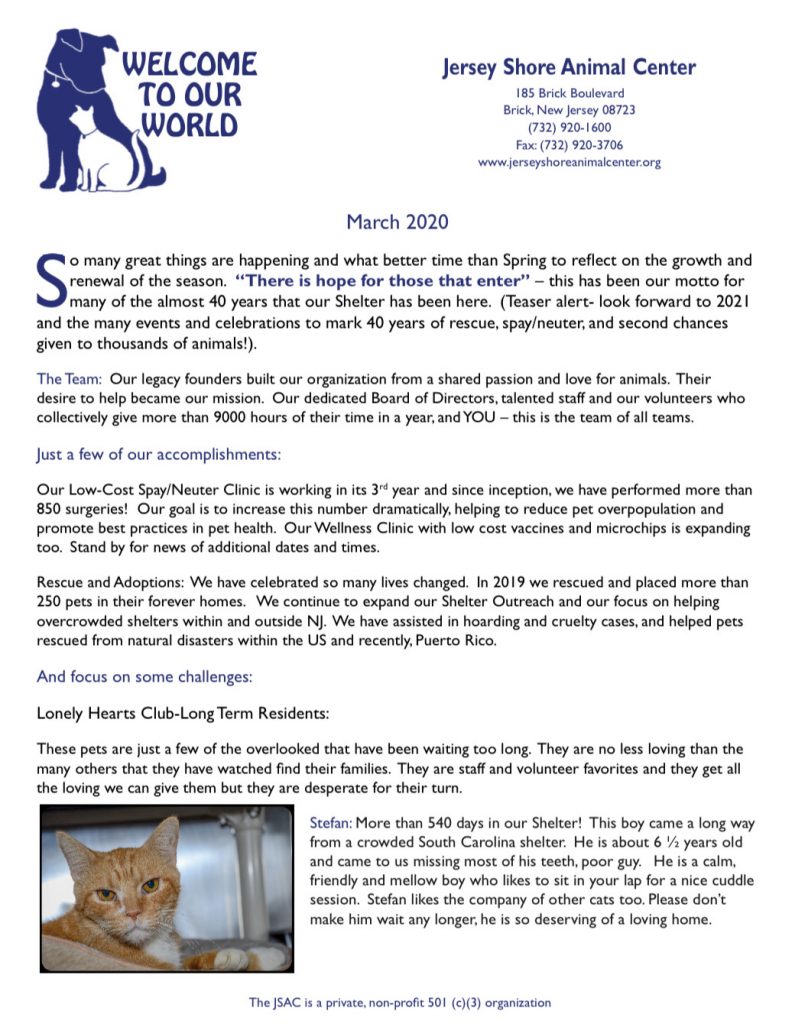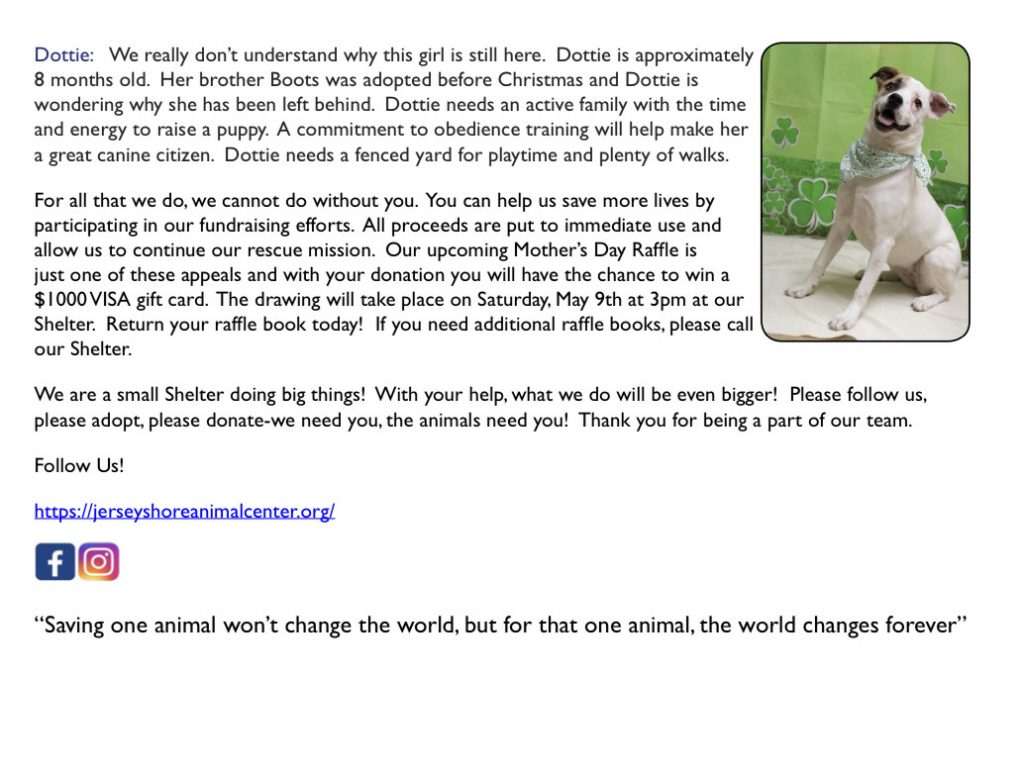 0
Animals Adopted in 2019 0
Animal Intake Since 2000 0
Animals Spayed & Neutered since 2008
check out our entire video gallery!
Please enjoy the Jersey Shore Animal Center television show "Welcome to our World" which will be updated frequently. In the past many of our loyal supporters were not able to watch the show simply because they were not in the viewing area.
You will now be able to watch our extraordinary animals that are available for adoption as well as topics that are interesting and related to shelter life.
thrift shop
The Bow Wow Boutique was established to provide an additional source of income to support the care and adoption of the animals at the Jersey Shore Animal Center.
wish list
The Jersey Shore Animal Center is always in need of items that make our shelter
function on a daily basis.
events
The JSAC is planning many fun filled events for the next few months, please take a look at our events page to learn more!!
Mailing list
The JSAC is planning many fun filled events for the next few months, please take a look at our events page to learn more!!