welcome to Jersey Shore Animal Center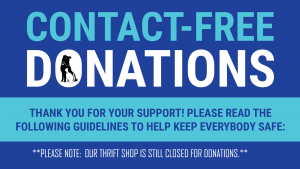 DONATION UPDATE: PLEASE READ ENTIRE MESSAGE!!
We will begin to take SOME DROP OFF donations for our animals. If it is not on this list (below), we do not need it at this time.
BEDDING/LINENS: Sheets, towels of any size , Blankets/Comforters (no down, no crocheted), Must be laundered. Must be bagged up or in a box. We DO NOT accept Pillows, mattress covers/pads, rags, or foam anything. No dog beds at this time.
FOOD: Dry/canned cat food (no fish flavors). Dry/canned dog food. No opened food.
CLEANING SUPPLIES: Hand soap, dish soap, disinfectant wipes, HE laundry detergent, rubbing alcohol, hydrogen peroxide.
NEWSPAPER: No color inserts.
OUR BUILDING IS STILL CLOSED TO THE PUBLIC AND LOCKED. PLEASE LEAVE ALL DONATIONS BY OUR FRONT DOOR ON ANY DAY FROM 10am – 4 pm (ONLY) WHEN IT'S NOT RAINING . YOU WILL NOT BE ISSUED A RECEIPT AT DROP OFF. IF YOU NEED A RECEIPT, YOU MUST CALL THE OFFICE AND WE WILL MAIL YOU ONE.
THE THRIFT SHOP IS STILL CLOSED FOR DONATIONS & SALES.
THANK YOU FOR YOUR COOPERATION AND CONTINUED SUPPORT OF OUR ANIMALS!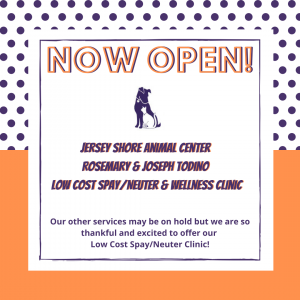 Please call our office for an appointment M-F between the hours of 10a-4p, if you get our voice message please leave a message.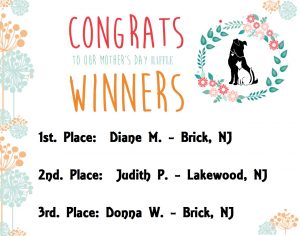 Dear Friends of the Shelter:
The Jersey Shore Animal Center and the Bow Wow Boutique miss all of you. We look forward to a safe reopening as soon as we receive guidance from government officials. We are committed to the health and safety of all our employees/volunteers. We will safely reopen for donations as soon as possible – we will implement guidelines to protect our employees, volunteers, and donors. Please keep your donations ready as they are much needed and truly appreciated. This revenue helps us to care for all our beautiful animals until they find their forever homes.
We hope that you and your families all remain safe and healthy! We can't wait to see you back in the shelter and thrift shop – we are hard at work keeping our animals healthy, loved, and safe.
Looking forward to seeing you soon!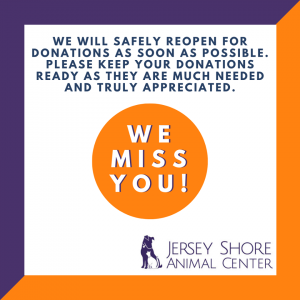 0
Animals Adopted in 2019 0
Animal Intake Since 2000 0
Animals Spayed & Neutered since 2008
check out our entire video gallery!
Please enjoy the Jersey Shore Animal Center television show "Welcome to our World" which will be updated frequently. In the past many of our loyal supporters were not able to watch the show simply because they were not in the viewing area.
You will now be able to watch our extraordinary animals that are available for adoption as well as topics that are interesting and related to shelter life.
thrift shop
The Bow Wow Boutique was established to provide an additional source of income to support the care and adoption of the animals at the Jersey Shore Animal Center.
wish list
The Jersey Shore Animal Center is always in need of items that make our shelter
function on a daily basis.
events
The JSAC is planning many fun filled events for the next few months, please take a look at our events page to learn more!!
Mailing list
The JSAC is planning many fun filled events for the next few months, please take a look at our events page to learn more!!